A Guide to Fruit in Japan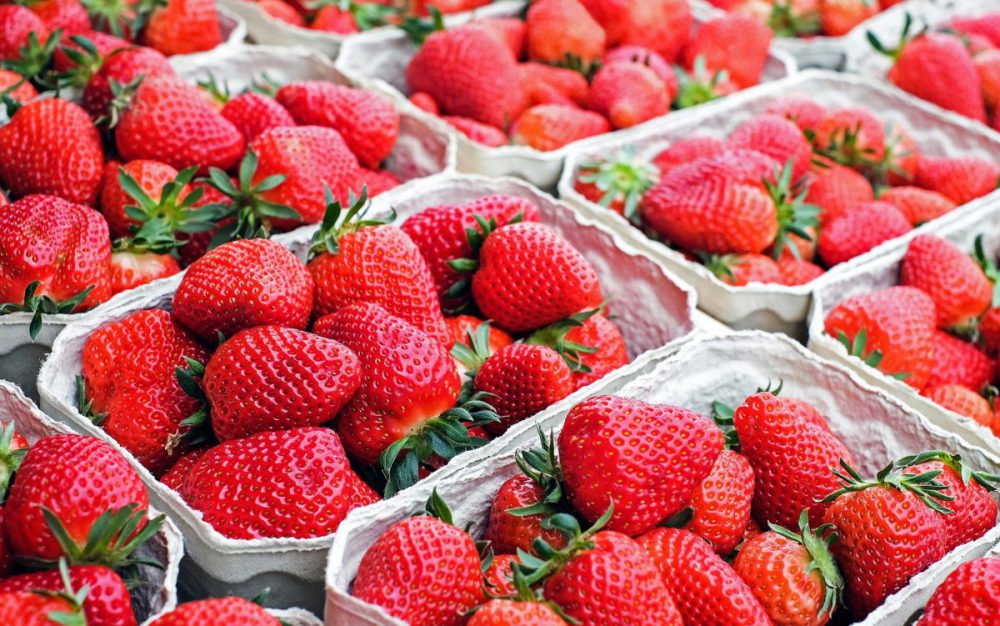 Japan is famous for having expensive fruit but you do get very high quality for the price. Japanese fruit is well-known for its visual appeal and full flavour which really demonstrates the great care and attention that goes into producing it. Japan has different fruits available in different seasons throughout the year. Tasting fruit grown in Japan is a must if you happen to visit and it might not be as expensive as you think. Let's take a look at some of the fruits available in Japan.
Strawberry (ichigo)
There are several types of strawberries in Japan and Japanese strawberries have an excellent reputation around the world for their sweetness and appearance. They can be expensive but they are worth the price in that the more expensive ones are bigger and tastier.
The strawberry season in Japan is from December to the end of May. There are many strawberry farms in Japan that offer pick and eat deals so you can eat as many freshly picked strawberries as you want.
Cherry (sakuranbo)
Despite the abundance of cherry blossom trees, most cherry trees in Japan don't produce edible fruit. Most edible cherries in Japan are grown in the Tohoku region. Japanese cherries have bright red, glossy skin and a sweet and sour taste. Japanese cherries are only in season from around May to July each year and can't be kept too long. They can be quite expensive when bought in supermarkets but, like strawberries, some cherry farms offer all-you-can-eat cherry-picking deals which are reasonably priced.
Melon
Melons are possibly the most famously expensive fruit in Japan with one particular variety, the Yubari melon, once selling at auction for approximately $23,000 US dollars. How do these prices get so high? Well, aside from their rarity, a lot of care and technique goes into growing Japanese melons.
This is something that consumers in Japan appreciate and are willing to pay for. And of course, the quality and taste of the fruit itself are amazing. The good news is that not all melons in Japan are that expensive and it's pretty easy to find reasonably priced melons in supermarkets or other stores. The melon season runs from May to the end of September, so all throughout summer.
Watermelon (suika)
Speaking of summer, watermelon is the quintessential summer fruit in Japan and the perfect one to cool you down on a hot day. Japanese watermelons come in all sorts of shapes and sizes. If you're tired of old fashioned round watermelons, there are square and pyramid-shaped ones on offer, though these can quickly add up as far as price goes. Aside from these, regular watermelons are a little more expensive and smaller when compared to those in Australia, costing around 2000 to 3000 yen for a whole melon. One good thing is that watermelons bought in Japanese supermarkets often have a sweetness rating so you know how good they're going to taste before you buy one.
Watermelon season runs from May to August every year and while they're not available outside these times, they are plentiful and easy to come by during summer.
Peach (momo)
Sometimes it seems like peaches are everywhere in Japan. Even if it's not peach season, there's peach flavoured food and drinks everywhere such as chocolate, cakes, juice and even Coca Cola. There are also peach fragranced shampoos and body mists. As far as the fruit itself goes, Japanese peaches are sweet and juicy and once you take a bite it's impossible to resist taking another.
Summer is the best time for peaches, especially from June to September. They are available in supermarkets but you can also visit various peach farms to buy them directly and experience picking them fresh off the tree.
Grapes (budou)
The grape season in Japan is from July to December but they reach their peak ripeness in August and September.
There are a few types of grapes in Japan but the two most well-known are Kyoho grapes and Shine Muscat grapes. Kyoho grapes are a deep, dark purple, each grape big and heavy with a balanced sweet-sour taste. Shine Muscat grapes are green and smaller than Kyoho, but are also juicy and sweet. Both of these types of grapes are quite expensive as they're grown with great care and they are often purchased as gifts. They can be found anywhere in Japan during grape season but are specialties of the Tohoku region. One interesting thing about some Japanese grapes is that the skins are quite thick so it's very common to peel them before eating them.
Pear (nashi) and Apple (ringo)
Japanese Fuji apples are well known all over the world for their size and full flavour. Their crisp texture is somewhat similar to that of the Japanese pear which is quite different to its Western counterpart in that it is round instead of the usual pear shape. Both of these fruits are perfect ingredients for desserts due to their sweetness and you can find some fantastic sweet treats when they're in season.
Pear season lasts from August to October but apple trees bear fruit almost all year round. Depending on the time of year, apples and pears may come at high prices in stores around Japan but can be picked up for good prices at fruit farms and orchards.
Persimmon (kaki)
One of Japan's most popular autumn fruits persimmon is rich in fibre, vitamin A and vitamin C. Japanese persimmons are exceptionally sweet and if you are in a more rural area in the right season, it's very common to see them hanging in people's yards in order to make hoshigaki or dried persimmon. Persimmon season is from the beginning of autumn through to the end of the year.
Mikan
Mikan is a type of mandarin orange grown in Japan. Easy to peel and seedless, mikan are in season throughout winter from October through to February. Mikan are often eaten as a snack or dessert in winter while people sit around a kotatsu keeping warm, a scene that's often shown in Japanese movies or anime.
Yuzu
Yuzu is a yellow citrus fruit that slightly resembles a lemon but has a unique flavour and fragrance of its own. Yuzu juice is often used as a seasoning for cooking or as a flavouring for drinks. Another popular usage is adding them to a hot bath as the fragrance is said to relieve stress and help relax sore muscles. Yuzu trees bear fruit from June to the end of the year but are ripe from November to December. Both ripe and unripe yuzu have different uses and benefits.
Now that we've looked at some of the different fruits available in Japan, how many can you find on your next trip?